Solvent Cleaning Equipment
Suitable equipment for use with Clarea® HC40 and Clarea® HC62 is shown below.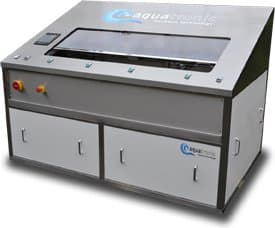 Aquatronic P Series
Two/three stage immersion machine with ultrasonics or pumped ejector flow with or without dryer and in a range of sizes from CCHydrosonics.
We can provide you with a Material Safety Data Sheets, independent laboratory reports, product samples and technical assistance.
For more information or advice please telephone us on +44 (0) 20 8281 6370 or use our contact form.
All products are supplied and supported by EnviroTech Europe Ltd.  Manufactured in the United Kingdom and available on short delivery times through our dedicated team of qualified distributors in Europe and the Middle East.