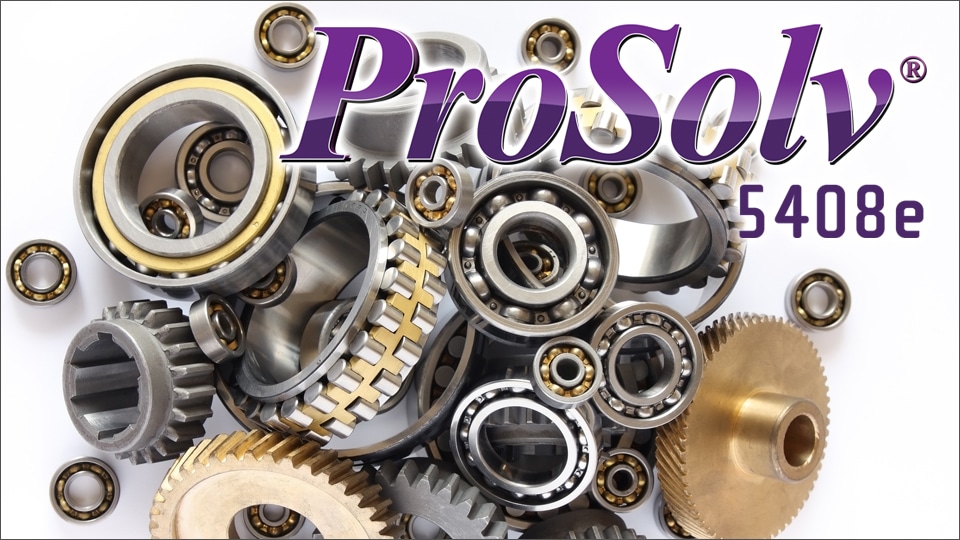 Vapour degreasing Solvents – Innovation driven by legislation

Vapour degreasing is the simplest but most effective industrial solvent cleaning process which, until recently, has been subject to little change since it was first invented in the early part of the 20th century. This is a very mature chemical technology, but legislation changes in recent years has impacted the industry significantly.
Chlorinated hydrocarbons have historically been the solvents of choice for vapour degreasing – compatible with most materials, stable in use, producing a non-flammable saturated vapour heavier than air at a temperature greater than ambient.  Traditional solvents such as trichloroethylene exhibited all these characteristics but concerns about its carcinogenic properties and the danger to operators by exposure, led to a continuing search for a safer alternative.  1,1,1 trichloroethane based formulations became popular in the last century as a safer replacement. Although safer for users, it proved to be depleting the Ozone Layer and was subsequently banned. N-Propyl bromide (nPB) based formulations became popular in the last part of the century as a safer replacement, but this was later put in Annex 14 of REACH by the EU and can no longer be used as a vapour degreasing solvent in Europe.  Countries around the world are now setting increasingly stringent environmental legislation to control emissions of Ozone Depleting and Global Warming industrial cleaning solvents. This has led to new chemical formulations being developed for industry.

Over 20 years of innovation for industry
EnviroTech Europe Ltd have been supplying vapour degreasing solvent formulations for over 20 years, constantly responding to regulatory requirements for environmental and safety laws and the need for improved standards.  Staff and distributors are highly trained to work with customers to advise on the use of industrial cleaning solvents, helping them to navigate through legislative changes and ensure their vapour degreasing and cleaning solutions remain within regulatory boundaries.
Customers may have recently read in the industry press about another major industrial supplier ceasing production of their range of fluorocarbon containing metal degreasing and vapour degreasing solvents. They may be concerned that other major suppliers will follow suit.
Envirotech Europe would like to assure the industry of its intention to continue the manufacture of its ProSolv®  range of metal cleaning and vapour degreasing solvents for the foreseeable future.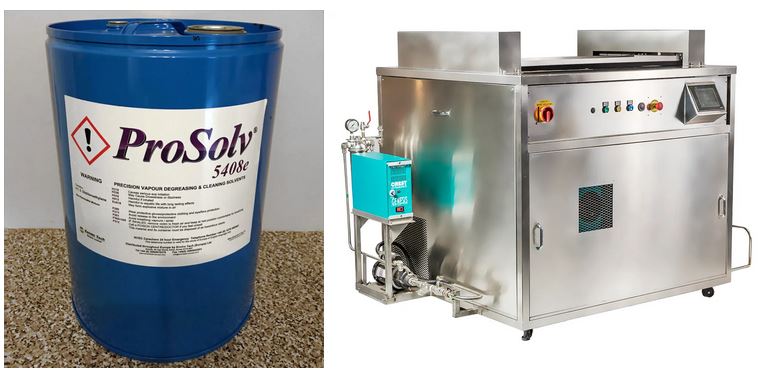 Zero Ozone Depletion Potential (ODP) and very low Global Warming Potential (GWP) solvent blend for high performance vapour degreasing
ProSolv® 5408e ticks all the boxes with the perfect profile for a vapour degreasing solvent, developed by EnviroTech Europe Ltd for precision parts cleaning or cleaning automated machinery at strip down.
ProSolv® 5408e offers improved cleaning at a lower cost, without compromising quality. Substitution is simple with little or no changes to equipment or control settings needed. A non-flammable stable azeotrope needing no testing for acid acceptance or stabilising additives, easy to use and maintain and safer for the workplace.
ProSolv® 5408e is extremely effective for precision cleaning in high-tech industries such as aerospace, aviation, electronics and medical device cleaning. It can be used in most solvent cleaning systems, one tank vapour degreasing or multi tank immersion / vapour tank systems using ultrasonics or flush cleaning for complex mechanical and electronic components with blind holes and channels and close mounted electronics or for removing grinding and buffing soils on surfaces. Exceptionally low surface tension to penetrate micron sized holes and close contact surfaces.
ProSolv® 5408e is highly effective when used with ultrasonics and can usually be used in existing degreasers or dip tanks. Ideal for precision cleaning and degreasing of electronics, metals and glass. It can be used to remove adhesives, fluxes, pastes, buffing compounds, greases, silicone oils, particulates, resins, waxes and other oils and soils. Soft on the environment, low solvent losses, reduced costs, sustainable and secure for the future.
FURTHER INFORMATION
Please visit our website https://www.envirotech-europe.com/prosolv5408e for information about other uses and applications for ProSolv 5408e.
Visit www.envirotech-europe.com/applications-and-case-studies for information about uses and applications for all EnviroTech Europe products.
For more advice, please telephone us on +44 (0) 20 8281 6370 or use our website contact form.
All products are supplied and supported by EnviroTech Europe Ltd. Manufactured in the United Kingdom and available on short delivery times through our dedicated team of distributors worldwide.