SuperCORR A multitasking lubricant and corrosion protection spray solving problems across industry.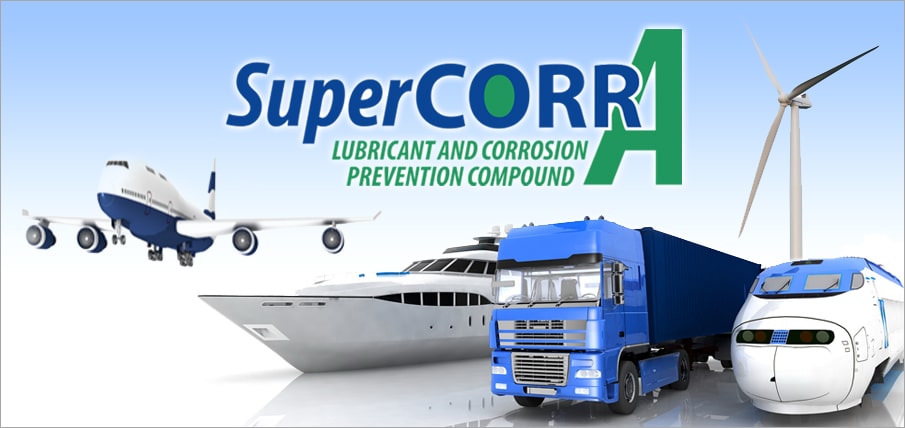 Originally developed to comply with military standards for a lubricant and corrosion protective for the USAF (MIL- DTL- 8717B Type 1 Avionics cleaning and corrosion prevention and control) SuperCORR A is now the industry standard for in service maintenance by military and commercial airlines and MOR facilities worldwide. It is recognised for its unique formulation which contains extremely long-lasting, proprietary anti-corrosive inhibitors providing a superior lubrication coefficient and protecting components against moisture, wear, general and fretting corrosion, surface static electricity, corona, and other electro migration problems. The ultra-thin non-flammable lubricant film is only 7 microns (0.0007 inch) thick and is formulated without sulphates, chlorides or halogens to meet the EU RoHS directive. It is unexcelled in preventing deterioration and contamination on all surfaces of electronic equipment and metal components.
Its use in aircraft is well established for maintenance but major aerospace and turbine manufacturer is currently completing trials with SuperCORR A to protect machined parts in transit and storage, worldwide, under variable temperature and humidity conditions against corrosion during long term storage. The protective film is self-sealing during movement and handling and can be removed before use if necessary.
Amongst other established uses for mercantile lubrication and corrosion protection suppliers of marine maintenance packages, which include SuperCORR A, to ships on docking. These are used for routine lubrication and anticorrosion maintenance in the harsh conditions experienced at sea. The aerosol cans make access to parts easy for the engineering crew in difficult locations on ship. Unpainted mild steel will not rust on exterior surfaces directly exposed to sea water spray for at least 6 months protecting electrical connectors, switches, chains, drive shafts from corrosion while maintaining lubrication on moving surfaces.
In another interesting application SuperCORR A reduces maintenance under extreme conditions to protect the metal edges of the composite blades on wind turbines. These are subject to the continuous corrosive effects of wind, rain and salt laden sea spray which erodes and corrodes the metal. The protective film produced by application of SuperCORR A is impervious to water and lubricates the airflow across the blade edges preventing corrosion of the metal. Safety on these wind turbines where maintenance engineers are working at great height and perilous conditions of exposure to high winds entails reliance on critical fall arrest equipment. Corrosion in the bearings, clutches and wires used in the arrester mechanisms can lead to failure and potentially serious injury or loss of life. SuperCORR A protects against corrosion in these safety critical components.
The oil and gas industries use SuperCORR A as a reliable easily applied protective coating against corrosion of tools and parts in storage and transit. High humidity and wide fluctuations in temperature experienced on oil rigs at sea and on land need the same protection and lubrication  for  critical fall arresters used on wind turbines and in other situations where working at high levels in extreme weather conditions imposes the same risks.
Monitoring systems, electronics. switches and moving surfaces also need protection and SuperCORR A being based on nonorganic lubricants will not attack or degrade the materials used in manufacturing the components but reject water from protected surfaces preventing shorts, and by preventing fretting corrosion ensuring good connections and smooth movement in bearings and chains.
Portable diesel and LP generators are widely used in the oil and gas and mineral extraction industries in remote, hostile environments. Between flights aircraft services are powered by generators during loading and unloading and maintenance.  All these uses require connection and disconnection, often many times a day. Connector seals, when broken, allows water, sand or dust to penetrate and with the flexing of the connector cables allows sufficient movement between the metal surfaces of the connector pins to produce fretting corrosion. A simple spray between connection breaks ejects water and particulates and protects and lubricates the contacts improving reliability of supply.
Building and construction industries offer other unusual uses for SuperCORR A. Unpainted hatches, grilles, and window furniture are galvanised if manufactured in steel and anodised if aluminium or a zinc alloy. These need protection in storage against scratches and once installed exposure to wind and especially acidic rain dulls surfaces and produces unsightly white surface corrosion. An onsite spray with SuperCORR A on completion of the installation protects the surfaces with an invisible film and at the same time applies a lubricant film to hinges and bearings in handles and other moving parts such as window openers  reducing the needs for maintenance often in inaccessible places at high level.
In all forms of transportation from Amtrac trains, DLR and other lightweight rail systems and for protection of transit equipment and services for underground tunnels and systems to motorsport. racing and rally cars, electric cars and on emergency vehicles SuperCORR A is used for protection and lubrication of connectors, electrical systems and switches, mechanical controls during manufacture, assembly and servicing. Haulage is another area where the ability to displace water from exposed contacts can ensure reliable operation in extreme conditions.
The unique combination of properties in one small aerosol can gives maintenance and service engineers a very safe solution to an enormous range of problems.
For more information please visit www.corrosion-protect.com. To discuss the use of SuperCORR A to solve your problems please use the website contact form or phone us, we look forward to hearing from you.
We can provide you with a Material Safety Data Sheets, independent laboratory reports, product samples and technical assistance..
For more information or advice please telephone us on +44 (0) 20 8281 6370 or use our contact form.
All of our products are manufactured, supplied and supported by EnviroTech Europe Ltd and are available on short delivery times through our dedicated team of distributors worldwide.
https://www.envirotech-europe.com/mh370/