ProSolv

® 5408

new sustainable solvent for critical cleaning of electronics and electrical components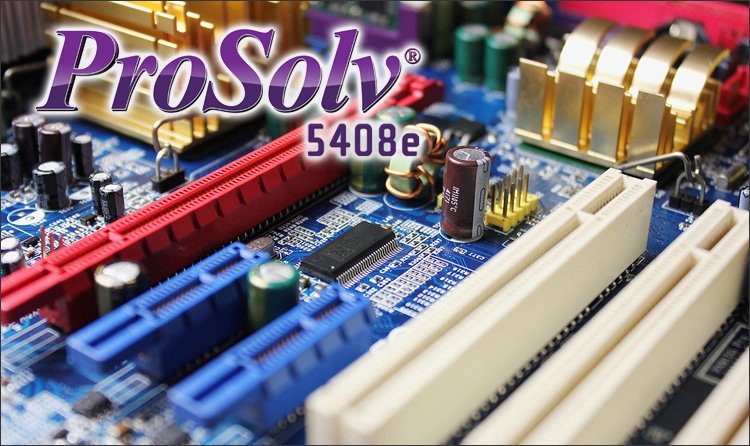 Solvents are used throughout industries where extremely high performance and safety critical cleaning levels are required including aerospace, military and defence, electronics, semiconductor manufacturing, optics, and industrial machining.
ProSolv 5408e is an innovative contemporary highly effective, versatile defluxer developed to not only remove rosin flux, no-clean flux, oil, grease and wax contaminants, but also to eliminate residual halide salts, ions and other polar and non-polar soils and contaminants that often cause component failures with tracking and other issues impacting performance.
Solvents based on conventional chlorinated hydrocarbons have delivered the high standards required for critical cleaning in the past. These chemicals had desirable properties which when combined gave a profile which was perfect for vapour/vapour liquid degreasing when combined with suitable equipment as industrial cleaning systems.
Non-flammable, consistent azeotropes, low viscosity, high liquid density, very low surface tension, and effective wetting enabling them to penetrate tight spaces for optimum cleaning performance. High KB values allows for cleaning a variety of light and heavy soils including particulates, ionic soils, oils, waxes, and greases these are no longer acceptable.
Evolving legislation for ecodevelopment demanded by governments worldwide demand inventive and original formulations for the use of solvents to continue to comply with the increasingly stringent legislation for protection of the environment and, even more importantly, safety of operators who maybe exposed to the products. In applications where formulated blends of halogenated solvents have been used very effectively in the past these are now required by changes in legislation to be phased out of use.
With their 25 years wealth of experience in this field as the inventors of the highly regarded n propyl bromide (nPB) based EnSolv range of precision cleaning solvents EnviroTech Europe created a contemporary new formulation based on recent research and developed a new solvent as a replacement for the "old" technology which has been found to perform just as effectively, but without the negative environmental, health and safety issues.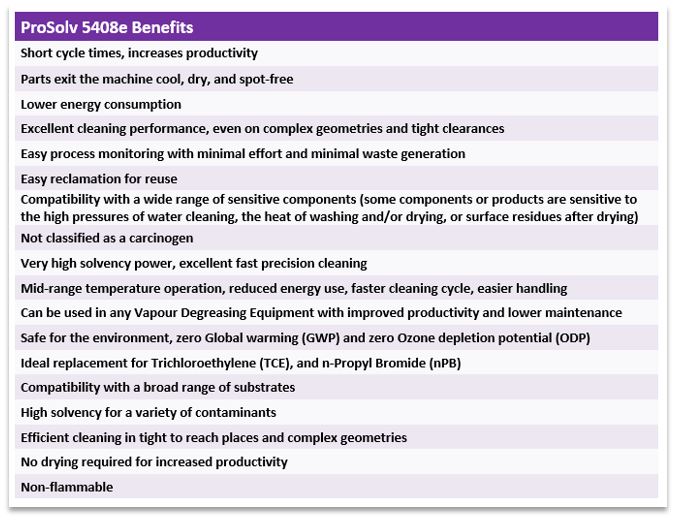 Listed above are just some of the benefits from using ProSolv 5408e, your forever sustainable solvent for cleaning and defluxing in the electronics and electrical components industry and an economical and efficient "drop in "for vapour / vapour liquid cleaning systems using legacy solvents. EnviroTech experts with many years of experience are available to guide you through changeover procedures or to advise on equipment.
For full product information please visit www.vapour-degreasing.com/prosolv5408e
We can provide you with a Material Safety Data Sheets, independent laboratory reports, product samples and technical assistance..
For more information or advice please telephone us on +44 (0) 20 8281 6370 or use our contact form.
All of our products are manufactured, supplied and supported by EnviroTech Europe Ltd and are available on short delivery times through our dedicated team of distributors worldwide.
https://www.envirotech-europe.com/mh370/