CONTENT ON THIS PAGE IS RETAINED FOR INFORMATION ONLY
DUE TO n-Propyl bromide now being included in Annex 14 of REACH
EnviroTech Europe Ltd (ETE) continue to publish it as historical information and to record changes occurring in legislation which have affected decisions on formulations and equipment used in vapour degreasing - the most effective, quickest, flexible and cheapest cleaning system used in industry.
EnSolv® invented and patented by EnviroTech has been a market leader all over the world for vapour degreasing. It is based on n-bromopropane (nPB) which now cannot be used as a vapour degreaser within the UK or EU without authorisation.
Archived information about EnSolv®  can be found using the Discontinued Products & Resources navigation menu on this page.
Using experience accumulated over 40 years supplying and supporting users of the vapour degreasing process ETE specialists have developed "drop in" alternatives:
ProSolv®, ProSolv5408e®  and EnSolv CC-A® give the same or improved level of performance and economy as the original EnSolv® products.
Please contact our advisers who are available to discuss your needs and propose the best replacement product.
Or please click here to return to our vapour degreasing products homepage for information about our current products.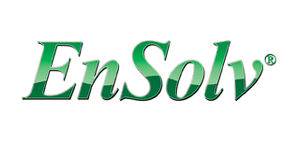 EnSolv is the only realistic safe, economical alternative to the carcinogen trichloroethylene for vapour degreasing.
Responding to the increasingly stringent legislation on solvent usage EnviroTech have over the years reacted to the changes and introduced and developed the solvent minimisation programme which gives help and guidance to users in ways to reduce the amount of solvents used in vapour degreasing to comply with the EU Solvents Emission directive. This is achieved by a combination of working with partners to improve equipment, better solvent handling and more efficient use of the vapour degreasing process. Training staff in proper loading of work baskets, correct timing procedures and many more detailed improvements which when combined not just reduce solvent usage but make it safer for the operator and the environment while considerably reducing costs for users. After discussion with many potential distributors to find a partner with the same ethical standards, passion for customer service and training and with the high level of knowledge to service and support our customers we are very pleased to announce Samuel Banner Ltd will be the distributors for EnSolv in the UK from November 2013.
Established 150 years ago Samuel BANNERS Ltd were granted the patent for White Spirit and from that time they have continued to be involved with solvents manufacturing and distribution. Their extensive storage and distribution depots will offer a fast and efficient delivery for EnSolv throughout the U.K. The respected technical sales team at BANNERS are active in precision engineering, aerospace, medical, electronics and optical industries where critical cleaning is required and have an in-depth knowledge of vapour degreasing to give advice and support to all EnSolv customers. EnviroTech Europe Ltd and Banner Chemicals are both committed to Responsible Care and will continue to advise on legislative or other changes and research for our products to meet the highest quality standards.
We can provide you with a Material Safety Data Sheets, independent laboratory reports, product samples and technical assistance..
For more information or advice please telephone us on +44 (0) 20 8281 6370 or use our contact form.
All of our products are manufactured, supplied and supported by EnviroTech Europe Ltd and are available on short delivery times through our dedicated team of distributors worldwide.