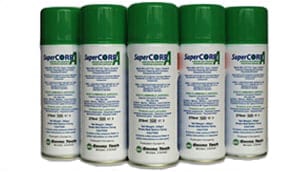 Question – How many engineers does it take to change a lightbulb?
Answer – One,
but they'll spend three hours checking it for alignment and leaks.
There are thousands of jokes on this theme but anywhere, factories, offices, warehouses, supermarkets, sports stadiums, railway stations, ocean liners, road lighting and other applications where thousands of light fittings are installed it can be a major maintenance expense rather than a joke.
SuperCORR A is a corrosion preventative dry lubricant aerosol which rejects water and protects the bulb socket and fitting and prevents sticking. This makes bulb changing easy and quick. 
We can provide you with a Material Safety Data Sheets, independent laboratory reports, product samples and technical assistance..
For more information or advice please telephone us on +44 (0) 20 8281 6370 or use our contact form.
All of our products are manufactured, supplied and supported by EnviroTech Europe Ltd and are available on short delivery times through our dedicated team of distributors worldwide.