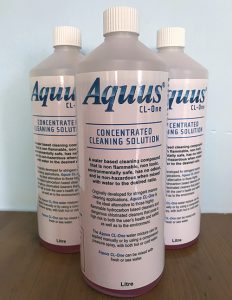 Aquus CL-One is THE general-purpose concentrated cleaning system based on a mixture of surfactants, does not include toxic solvents and exhibits a unique combination of characteristics that are not found in other commercially available products.
Aquus CL-One for water based cleaning is biodegradable, non-flammable, non-toxic at used concentrations and, unlike almost all other surfactant systems, is both hydrophilic (water attracting) and oleophobic (oil-repelling).
Aquus CL-One offers excellent emulsion-breaking capability in addition to its unusual combination of properties that makes it so practical for a wide range of industrial applications.
Aquus CL-One concentrated cleaner is formulated to offer one solution for all cleaning applications reduces time and costs by removing the need for multiple cleaning products usually needed to deal with the challenges presented by the wide range of soils, oils and other contaminants which need to be removed.  Safe for the environment and users, contains no solvents and is biodegradable within 30 days. One of the innumerable industry specific applications are discussed below but many more will be experienced in day to day operations. With only one product for all cleaning applications incorrect selection or dangerous uses can be avoided.
MANUFACTURING, ENGINEERING and MAINTENANCE
Formulated to tackle the numerous cleaning applications required by the manufacturing and engineering industries. Concentrated Aquus chemistry is activated by water, varying concentration levels allows the most economical solution to be chosen for specific applications from parts cleaning to surface preparations for finishing or heavier soiling on process machines all from one product. Some of the hundreds of applications are discussed below.
Our applications experts and samples of the product are available by completing the contact form.
PARTS CLEANING
Ideally suited for cleaning protective coatings, grease and soils from used or parts during manufacturing processes.  Aquus CL-One can be used in parts washing equipment or dipping tanks without modifications and leaves no residue after drying.
Oil and grease separate from the water and coalesces on the surface of the cleaning solution which can then be skimmed off for recovery and recycling. Precipitated solids free of hydrocarbons can be removed by settlement or in filtration systems. The cleaning solution can be reused continuously within its chemical effectiveness parameters for efficient and economical use.
GENERAL CLEANING
Aquus CL-One is remarkably efficient removing oils, greases, and accompanying dirt from most surfaces.  It can be applied by wiping surfaces, mopping floors or in rotary floor cleaning machines, or by low or high-pressure spray. Aquus CL-One is also an effective cleaner in industrial kitchens removing grease and baked on deposits on internal surfaces of ovens and trays. For maintenance of machines, engines etc oil and grease is easily removed pre and post assembly making inspection and repair easier, quicker and cheaper by returning equipment to use.
PREPARATION FOR PAINTING OR POWDER COATING
Aquus CL-One is an excellent choice for cleaning mild steel and ferrous metal parts which are not painted immediately. Process oils and grease on the parts protect the surfaces from changes in humidity but once removed flash rusting can occur while drying.  Aquus CL-One prevents this leaving an invisible barrier on the metal surfaces providing extended corrosion protection during storage, fabrication or assembly before finishing. The barrier film can be painted over without additional rinsing and without affecting adhesion of paint or powder coatings.  Any cleaning system can be used hand wiping, dip tanks, or pressure washing.
WASTE TREATMENT SYSTEMS
Aquus CL-One is extremely effective in separating oil, water, and solids in drains and conveyor traps and sumps on automatic honing, turning and grinding machines when using water based lubricant and cooling liquids. The emulsions are broken allowing cleaned metal dust, shavings and dirt to precipitate to the bottom, the solution of Aquus CL-One and water retains the active cleaner in the middle layer, and oil and grease float to the top. The efficiency of oil/water separators in plant waste treatment systems are significantly increased while the amount of toxic waste requiring disposal after treatment is significantly reduced. The cleaning solution can be reused to treat more waste streams until biodegradation occurs and it no longer operates effectively.
Further information
We can provide you with a Material Safety Data Sheet, independent laboratory reports, product samples or technical assistance. For more information or advice please contact us by telephone on +44 (0) 20 8281 6370 or use our contact form.
All products are supplied and supported by EnviroTech Europe Ltd.  Manufactured in the United Kingdom and available on short delivery times through our dedicated team of distributors in Europe and the Middle East.

EnSolv vapour degreasing solvents distributed by EnviroTech Europe Ltd has been used over the last 30 years by hundreds of companies and for thousands of different applications.
With the unique stabiliser/inhibitor system giving stability and long life for degreasing tanks, reducing maintenance costs and low solvent losses EnSolv is very widely used and approved. Intense worldwide competition needs very tight control of manufacturing costs. EnSolv vapour degreasing solvents gives our users a tried and tested, economical product with the lowest operating costs.
n-Propyl Bromide (nPb) update
For more than 30 years n-Propyl Bromide (nPB) has offered users a safer solvent as a replacement for the carcinogen trichloroethylene as customers using EnSolv will know. Unfortunately, European legislation has set a "sunset date" for the use of nPB, the solvent used as the base material for EnSolv. The inclusion of nPB into Annex XIV has been challenged in the European Court by our supplier, the only manufacturer in the EU. EnviroTech Europe Ltd have always sourced from this consistently high quality manufacturer rather than search out cheaper often lower quality alternatives from Asia.
The Court was very receptive to all the points made. Despite our firm belief that the inclusion of nPB into Annex XIV was not carried out on the basis of all available evidence and we expected a decision earlier, this has been delayed until later in the year. EnviroTech will inform all clients of the outcome as soon as the decision is known.
Just in case EnviroTech are moving forward.
EnviroTech Europe are in the final stages of development of some new and exciting "drop in" cost effective replacements for all our valued customers old and new.
EnSolv CC-A a unique blend of dichloromethane with surfactants for improved cleaning and lifting of surface soils.
ProSolv a new formulation based on 1,2 trans-dichloroethylene with further developments in our laboratories of other blends to complement the range.
If a change is needed these products are available with full technical advice and support to give the same economical, high quality vapour degreasing and service for uninterrupted production. Details are available on our website.
As specialists in cleaning technology our new Aquus CL-One water based general cleaning solution is a game changer for manufacturing industry, petrochemicals, aviation and institutions with one product, safe on all substrates, for removal of oils, grease and odours.

Don't Panic.
If you are using EnSolv products now, contact our sales team to discuss "nPB sunset data" we have the information you need to help you prepare and to change to the most economical best alternative.  Not using EnSolv! get in touch anyway, our expertise is free and it will probably be to your advantage.
Go to https://www.vapour-degreasing.com/ for further information on our vapour degreasing solvents or e-mail us for help and advice from our technical service engineers.
Further information
We can provide you with a Material Safety Data Sheet, independent laboratory reports, product samples or technical assistance. For more information or advice please contact us by telephone on +44 (0) 20 8281 6370 or use our contact form.
All products are supplied and supported by EnviroTech Europe Ltd.  Manufactured in the United Kingdom and available on short delivery times through our dedicated team of distributors in Europe and the Middle East.

Use Clarea degreasers to replace toxic solvents
for industrial cleaning

Clarea solvent degreasers are a newly formulated range of highly refined hydrocarbon based degreasing solvents with very high cleaning power and low odour, which can be used as an alternative to other hazardous solvents used throughout industry to remove oils, greases, hydraulic fluids cutting fluids and a wide variety of hydrocarbon based protective coatings.
Clarea solvents can be used in dip, brush or in hand-wipe applications.
Clarea HC40 has a relatively fast evaporation rate with low odour and is suited to hand wipe and brush cleaning and air dries while Clarea HC62 is not classified as flammable and is typically used with immersion dip and soak tanks for heavily contaminated parts where oven or forced air drying is acceptable.
Clarea solvents leave minimal residues on drying and are compatible with all metals and many plastics and composite materials. Clarea degreasing solvents can reduce usage and contain no halogens such as chlorine or fluorine so do not deplete the ozone layer or contribute to global warming.
Clarea solvents are one of the ranges of solvent based cleaners and surface treatment products from cleaning specialists EnviroTech Europe Ltd.
Further information
We can provide you with a Material Safety Data Sheet, independent laboratory reports, product samples or technical assistance. For more information or advice please contact us by telephone on +44 (0) 20 8281 6370 or use our contact form.
All products are supplied and supported by EnviroTech Europe Ltd.  Manufactured in the United Kingdom and available on short delivery times through our dedicated team of distributors in Europe and the Middle East.

The future for solvent vapour degreasing equipment – Innovation driven by legislation
.
Vapour degreasing is the simplest but most effective degreasing and cleaning process for industrial use.  It has, until recently, been subject to little change since it was first invented in the early part of the last century. The name for the process is a misnomer as the cleaning is achieved  by solvent vapour condensing on the cooler target parts the hot liquid solvent dissolving oil and removing dirt.
Vapour degreasing is a mature chemical technology on which legislation is now effecting changes so fundamental that the more accurate name for the process "Condensation Cleaning" should be used to reflect the way in which it works. The open topped tanks so ubiquitous in factories and workshops worldwide are no longer acceptable and the alternatives in equipment design and their  fundamental differences in  technology  which guarantee the continuing use of vapour degreasing in the future need to be considered and understood.
In Europe the United States and in other advanced industrialised economies increasingly stringent legislation to control emissions of VOCs and especially solvents has led to new formulations for paints and other coatings where water replaces most of the solvent. In the early days the quality of the coatings was not as good as solvent based coatings but innovation has driven the development of new polymers with results as good as, if not better than, the solvent based originals.
As with coatings, cleaning systems have had to change. With increased regulation users of solvent have been targeted and alternatives are encouraged by the relevant authorities and law makers often without serious consideration of unintended consequences.
For example water based cleaning is the obvious alternative but this has many disadvantages compared to condensation cleaning as although the machines are simple and relatively cheap the processes require multiple tanks for immersion or spray processing or long programmed cycles in batch machines for cleaning, rinsing and drying. Water based processes are slow, energy intensive and occupy more floor space than  condensation cleaning equivalent where only one tank with small footprint is needed delivering shorter process times and most importantly using minimal energy.
The ideal cleaning process would be "Condensation Cleaning" with water but due to the physical characteristics of the water vapour/steam and the inability to carry onto the surface of the targeted parts surfactants to remove the oil, grease and soils and the difficulty of rinsing and especially drying this can only ever be a dream.
A little history of the chemistry helps to explain the changes since the introduction of the vapour degreasing process. Suitable chemicals must be very good solvents for oil, grease, and other industrial soils non-flammable, safe for users and the environment and very stable when heated continuously for long periods.
Halogenated hydrocarbons are the solvents of choice for "Condensation Cleaning". The process is essentially simple. A tank with a sump to contain the solvent, heaters at the base and condensation coils around the top section to control the height of the vapour is all that is required.  When heated in the sump halogenated solvents produce, a saturated vapour between 3 and 4 times heavier than air at a temperature greater than the ambient conditions. This allows the solvent vapour to condense on the surface of the parts to be cleaned. The condensate dissolves the contaminants such as oil, greases and soils returning the used solvent into the sump of the machine for recycling into vapour which continuously condenses onto the parts until they have achieved the same temperature as the solvent vapour when, with no further condensation, the process is complete. Parts removed from the cleaning machines are very clean, warm and dry.
The most common halogenated solvents, in use for commercial purposes, are non-flammable so present no risk in this process. Perchloroethylene, used mainly for dry cleaning, methylene chloride used more widely in paint strippers and trichloroethylene used for vapour degreasing were the original materials used based on chlorine chemistry. However continuing concern about the environmental impact and danger to operators by exposure to chlorine based solvents, especially trichloroethylene, has led to a continuing search for safer alternatives.
1,1,1 trichloroethane (Genklene from ICI and Chlorothene from Dow Chemicals)  both of which were based on another chlorinated solvent  were to become ubiquitous in the mid part of the last century as a much safer, non- carcinogenic replacement for trichloroethylene. This was an excellent solvent safe for users but which, with increased awareness of the environmental impact of solvents, proved to be depleting the protective ozone layer around the Earth and was subsequently, banned. With the development of the REACH legislation in Europe, which now classifies trichloroethylene as a human carcinogen, usage is allowed but with restrictions and stringent controls for use  authorised in machines which control factory emissions to very low figures close to zero.
Meanwhile cleaning solvents based on 1-bromopropane such as EnSolv were developed in the United States as a drop in replacement for trtichloroethane. EnSolv has an identical profile, stable, non-flammable, with the same physical characteristics such as boiling point and specific gravity and it is an excellent cleaning solvent but without the potential for ozone depletion.
During this time new halogenated solvent blends using trans1.2 dichloroethylene, a highly flammable solvent with similar chemistry to trichloroethylene were also developed for condensation cleaning.  The trans 1.2 dichloroethylene is blended with a variety of different fluorocarbon solvents which are not suitable as cleaning solvents, as they have very low solvency, but are used in these blends as a fire retardants.  An extremely expensive answer to a simple problem, already solved by the development of machines able to safely use the more economical solvents.
As with all legislation for the use of chemicals regulation and restrictions drive development of associated processes and equipment. The most important developments in machines to use solvents for condensation cleaning use two different approaches and  raise difficult questions as to which is the best most economical and simplest in use.
The single tank hermetically sealed machines favoured by some equipment manufacturers uses a process tank to contain the solvent and a separate storage tank/vapour generator. Baskets, containing soiled parts, are loaded from the top or through access points on the side of the tank. Lids or doors close over the opening and the process tank is hermetically sealed.  Baskets are immersed in solvent, where agitation, ultrasonics or pumped liquid is circulated through the parts.
When the immersion process is completde solvent is removed to the storage tank and vapour fed to the process tank from a vapour generator for rinsing and drying. On completion of the cycle coil,s located within the process tank  collapse the vapour.  The process tank is evacuated by vacuum and recycled through carbon absorption units to remove traces of solvent from the air until the concentration is below limits set by regulators when the lid opens automatically for the basket of parts, clean and dry, to be safely removed and replaced with a further basket.
Variations of process within the hermetically sealed tank are possible using sprays of cold or hot condensed solvent, immersion with or without ultrasonics and revolving baskets to deal with the problems experienced when processing machined and fabricated parts. Continuous external distillation of the contents of the vapour generator is also an option depending on contamination.
The alternative technology is much simpler and cheaper using well tried techniques not requiring the long recovery times of the hermetically sealed processes. The multilevel system uses a standard vapour degreasing tank design with a sealed loading section above the process tank.
Components, to be cleaned, in baskets or on jigs, are fed to the automated hoist in the load section manually, by hoist or conveyor. The loading door is  sealed pneumatically to completely isolate the process. The process tank sealing lid opens and the basket lowered into the process chamber. Depending on the soils  simple condensation cleaning can be used or with the lower section being filled with clean solvent for immersion cleaning with or without ultrasonics or power sprays. Revolving baskets are a further option to improve cleaning in blind or through holes or oil ways in castings and fabrications.
With the process completed the basket rises to the freeboard area where the condensation coils are located and parts allowed to drain and dry.  The tank seal opens to allow the basket into the load section while the lid closes to seal the  process tank. A fan is then activated which produces a negative vacuum in the load area. The loading door partially opens to allow a flow of air through the loading section which is exhausted to atmosphere or can be recycled through carbon absorption systems.
As baskets entering the loading space contain parts drained and dried only very small amounts of solvent are carried in the exhausted air which is monitored to ensure compliance with appropriate legislation. When this is completed the door opens fully for removal of cleaned components. The loading section can be fitted with top or side sealed doors allowing baskets to flow through on conveyor systems or be loaded from hoists. No solvent enters the work area.
Both processes will produce parts cleaned to the highest standards but the choice of which offers the best solution needs a little more consideration.
The hermetically sealed vacuum process is complicated with the need to move liquids in the machine. It is relatively slow as the carbon adsorption process needs to remove high levels of solvent from the recirculated airstream from the process tank. This is inefficient as adsorption rates for carbon fall rapidly with increasing saturation.  Final levels of solvent in the tank when the lid or loading door opens will be emmited into the workspace and the area in which the operator is working. Long process cycles reduce throughput.
The simpler multilevel systems where movement of liquids is not required are more efficient and offer much faster process times.  Cost of manufacture is also lower as no liquid movement or vacuum is involved. The extracted loading section ensures no leakage of solvent into the work area which gives complete safety for operators and factory staff.  The disadvantage of the multilevel machine is the height of the equipment compared to the hermetically sealed machine.  This will often need the equipment be installed in a pit for easy access.
Both designs of process machines fully comply with the emission regulations of the EU and U.S authorities. Which to choose will depend on many factors which should be discussed with both the equipment and solvent suppliers who have the experience to advise on which offers the best process for the application. Equipment and solvent work together as a process and it is essential to ensure that the suppliers work closely together to offer a package with high levels of responsible care and product stewardship to ensure the best results and safest installation.
The "Condensation cleaning" process still gives the highest levels of economical cleaning with minimum energy usage, low footprint on the factory floor, safety for the operator, and high production rates with low solvent usage or environmental impact. With the new generation of sealed cleaning machines its future as the process of choice for industrial cleaning is assured.
EnSolv cleaning solvents are supplied throughout Europe.
Further information
We can provide you with a Material Safety Data Sheet, independent laboratory reports, product samples or technical assistance. For more information or advice please contact us by telephone on +44 (0) 20 8281 6370 or use our contact form.
All products are supplied and supported by EnviroTech Europe Ltd.  Manufactured in the United Kingdom and available on short delivery times through our dedicated team of distributors in Europe and the Middle East.
https://www.envirotech-europe.com/condensation-cleaning-future-solvent-degreasing-equipment/
https://www.envirotech-europe.com/degreasing-cleaning/