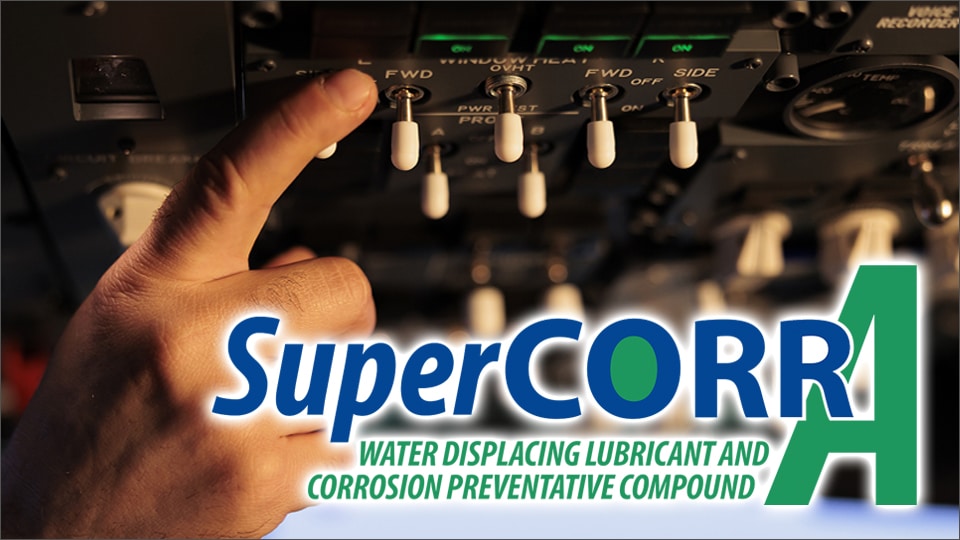 SuperCORR A – Avionic and electronic component corrosion inhibitor
Super CORR A was originally developed for the U.S. Air Force to comply with Mil-DTL-87177B (formerly Mil-L-87177A) specifications. A water displacing lubricant and corrosion protection compound that prevents avionic as well as electrical and electronic components from systems failures caused by corrosion. It is now the industry standard for electrical corrosion protection, for in service maintenance by both military and commercial aircraft major repair and overhaul (MRO) facilities worldwide.
Super CORR A is a unique and proprietary formulation with long-lasting, anti-corrosion inhibitors and components providing a superior lubrication coefficient and protection against moisture, wear, general and fretting corrosion, static electricity, corona, and other electro migration problems. The non-flammable film is only 7 microns (0.007mm) in thick and is formulated without sulphates, chlorides, petroleum-based material, or halogens, to meet the EU RoHS directive.
Manufactured and supplied by EnviroTech Europe Ltd, it is unexcelled in preventing failures of electrical systems and electronic equipment caused by corrosion as well as preventing the corrosion of metal components surfaces, including those of components comprised of dissimilar metals such as those found in aerospace environments.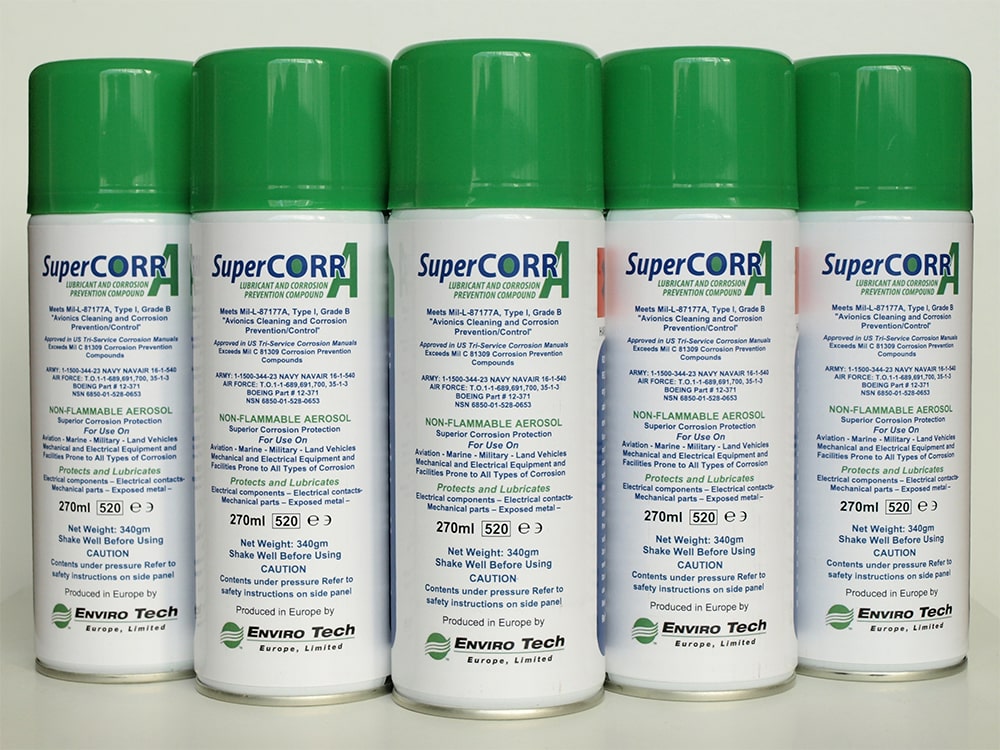 Super CORR A is packaged in aerosol cans make access to component parts easy for the engineering crew in difficult locations and conditions. Unpainted mild steel will not rust on exterior surfaces directly exposed to sea water environments for at least 6 months, protecting electrical connectors, switches, chains, drive shafts from corrosion while maintaining lubrication on moving surfaces.
Use Super CORR A  for protection and lubrication of connectors, electrical systems and switches and mechanical controls during servicing. The ability to displace water from exposed contacts can ensure reliable operation in extreme conditions all in one small aerosol can.
EFFICIENT AND ECONOMICAL
Extremely long-lasting, specially formulated and proprietary anti-corrosive inhibitor.
Eliminates premature failure of components created by moisture, general or fretting corrosion.
Prevents deterioration and contamination on all surfaces of electronic and electrical equipment and mechanical close tolerance moving components.
Reliability increased, maintenance intervals increased and costs reduced, manufacturers save costly warranty service calls or product re-call.
APPROVED
Industry approval from:  NASA, Boeing Aircraft, Bombardier, Embraer, Lear, Gulfstream, Hawker-Beechcraft, Cessna, Raytheon, Polish Airforce, Northrop-Grumman, Royal Navy and Royal Norwegian Air Force.
Exceeds Mil C 81309 Corrosion Prevention Compounds.
Approved in US Tri-Service Corrosion Manuals.
Vapour degreasing cycle using hermetically sealed equipment.
ProSolv 5408e is a high- performance solvent cleaner used for sustainable and future proof vapour degreasing.  Soft on the environment and safe for users, it offers improved cleaning at lower costs. Low boiling point, economical with energy with low solvent losses, faster production.
Innovation driven by legislation
Vapour degreasing, with or with-out ultrasonics, is the oldest, simplest and most effective solvent degreasing and metal cleaning process used today. It has, until recently, been subject to little change since it was first invented in the early part of the last century. In the UK, Europe, United States and other advanced industrialized economies increasingly stringent legislation to control emissions of VOCs, Solvents with a high Global Warming Potential (GWP), or a high Ozone Depletion Potential (ODP), and those compounds associated with human health concerns has led to Envirotech Europe manufacturing new formulations for precision cleaning solvents with low or near zero potential.​
Halogenated hydrocarbons are the solvents of choice for vapour degreasing and cleaning. The process is essentially simple. A tank with a sump to contain the solvent, heaters at the base and condensation coils around the top section to control the height of the vapour is all that is needed. When heated in the sump halogenated solvents produce, in most cases, a saturated vapour between 3 and 4 times heavier than air at a temperature greater than the ambient temperature of the parts to be cleaned. This allows the solvent vapour to condense on the surface of the parts. The condensate dissolves the contaminants such as oil, greases, flux, and soils returning the used solvent into the sump of the machine for recycling into vapour which continuously condenses onto the parts until they have achieved vapour temperature when, with no further condensation, the process is complete. Parts removed from the cleaning machines are very clean, warm and dry.
The most common halogenated solvents, in use for commercial purposes, are non-flammable so present no risk in this process. Perchloroethylene, used mainly for dry cleaning, methylene chloride previously used widely in paint strippers, 1,1,1- trichloroethane and trichloroethylene used for vapour degreasing were the original materials used based on chlorine chemistry. However continuing concern about the environmental impact and danger to operators by exposure to chlorine-based solvents, especially trichloroethylene, has led to a continuing search for safer alternatives, such as ProSolv 5408e , a trans-1,2-Dichloroethylene based solvent mixture that is non-flammable.
The ProSolv 5408e vapour degreasing process gives the highest levels of economical cleaning with minimum energy usage, low footprint on the factory floor, safety for the operator, and high production rates with low solvent usage or environmental impact. With the new generation of sealed cleaning machines its future as the process of choice is assured.
A more detailed version of this article can be viewed here:
https://www.vapour-degreasing.com/solvent-degreasing-and-metal-cleaning/
Animation of Solvac hermetically sealed equipment by kind permission of CC Hydrosonics Ltd. https://www.cchydrosonics.com/
FURTHER INFORMATION
For more advice, please telephone us on +44 (0) 20 8281 6370 or use our website contact form. All products are supplied and supported by EnviroTech Europe Ltd. Manufactured in the United Kingdom and available on short delivery times through our dedicated team of distributors worldwide.

EnviroTech Europe are specialists in metal, plastic and other substrate cleaning, pretreatment and protection.
We offer a range of approved products tailored to your industry, which are cost effective, energy efficient, safe for operators and the environment.
Our products are used in the following industries:
Electronics and Electrical
Environmental
General Cleaning
Industrial and Manufacturing
Marine and Maritime
Mechanical Engineering
Medical Device Manufacturing
Military
Motorsport
Power Generation
Railways and Automotive
PRODUCTS:
EnSolv CC-A Vapour Degreasing Solvents For Precision Metal Cleaning:
A family of environmentally friendly precision vapour degreasing and cleaning solvents for the aerospace, precision engineering, medical, optical and electronic industries. 
ProSolv 5408e Environmentally Sustainable High Performance Vapour Degreasing Solvent: 
Zero ODP (ozone depletion) and GWP (global warming potential) – Sustainable and secure for the future.
SuperCORR A Advanced lubricant and corrosion protection compound: 
Specialist barrier film corrosion protection products, based on synthetic materials to provide safe, effective, environmentally friendly solutions to lubrication and corrosion problems.
Aquus CL-One General Purpose Industrial Cleaning Agent: 
A non-toxic, water based surfactant system which exhibits a combination of characteristics not found in any comparable commercially available system.
Clarea Industrial Degreasing Solvents:
Non chlorinated, industrial wipe, brush, dip and immersion cleaning solvents for removing dirt, oil, grease and other contaminants without causing harm or leaving residue.
VOC Exposure Monitoring:
We have portable test equipment that logs the Volatile Organic Compound (VOC's) content in the air from various strategic positions around your degreasing equipment, including the operator position
FURTHER INFORMATION
For more advice, please telephone us on +44 (0) 20 8281 6370 or use our website contact form. All products are supplied and supported by EnviroTech Europe Ltd. Manufactured in the United Kingdom and available on short delivery times through our dedicated team of distributors worldwide.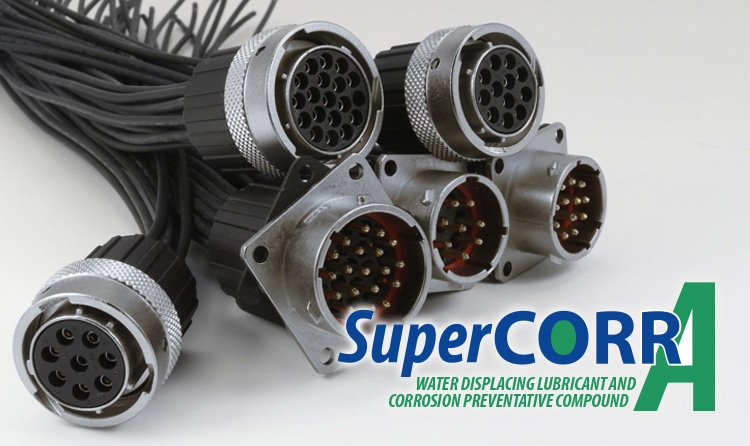 Corrosion protection – SuperCORR A helps to reduce fretting corrosion on gas turbine connectors.
LP Gas Turbines are used throughout the world by extraction industries and manufacturing plants in remote and hostile locations for essential power production. Dusty and wet environments in deserts, mines, grinding mills, pulp and paper mills and on land or sea drilling rigs for gas and oil production. Turbines powering aircraft services while stationary connect and disconnect many times a day in extreme conditions. These applications and locations test connector sealing continuously allowing dust or water to penetrate. This with the flexing of the connecting cables allows sufficient movement between the metal surfaces of the connecting pins to produce fretting corrosion which reduces, interrupts or produces failures in supply. Regular maintenance of electrical connectors is essential to be certain of uninterrupted supply.
RUB TEST RESULTS
Super CORR A  is an aerosol lubricant containing corrosion preventive compounds.
A manufacturer of connectors tested Super CORR A to see what the "life" of the lubricant was in a "rub test". The typical test is 20,000 cycles, i.e. unplug, plug in is one cycle. The test results demonstrated that after 20,000 cycles there were no failures. It was decided to take it one more step and run the same tests for 200,000 cycles. The results again showed no indications of galling or scoring on the connectors at all. The connector looked and tested as good as new. This test was run under clean conditions in a laboratory but demonstrates the effectiveness Super CORR A.
As it meets Mil MIL-DTL-87177B (revised MIL-L-87177A) specifications it is used by the U.S. Air Force to protect the intricate workings of the F-16 and F-15 fighter jets and by the U.S. Navy on the P 3 Orion electronic surveillance aircraft. Savings for the U.S. government is estimated at $50 million per year. Commercial Aviation aircraft manufacturers recommend it for avionics and electrical switches and connectors and close mechanical application, especially where flights are in salt fog or high humidity.
Containing extremely long-lasting, proprietary anti-corrosive inhibitors Super CORR A provides a superior lubrication coefficient and protects components against moisture, wear, general and fretting corrosion, surface static electricity, corona, and other electromigration problems. The super thin non-flammable lubricant film is only 7 microns (0.007mm) thick and is formulated without sulphates, chlorides or halogens to meet the RoHS directive. It is unexcelled in preventing deterioration and contamination on all surfaces of electronic equipment.
Very fast drying, environmentally acceptable solvents are used as carriers and propellants which will not affect most plastics, substrates, metals or other materials used in connector manufacture. The aerosols are supplied with probes which allow access to pins and connector tubes where the low surface tension repels water, dirt dust and metal particles from blind holes and surfaces to produce thoroughly clean holes and surfaces before a second application applies the lubricant film. Reconnection to the supply with cleaned sections of the connector ensures reliable operation even in the most testing of environments. One can of Super CORR A allows this essential task to be carried out in any conditions quickly, easily and securely.