ProSolv

® 5408

sustainable, economical cleaning solvent for vapour degreasing in the aerospace industries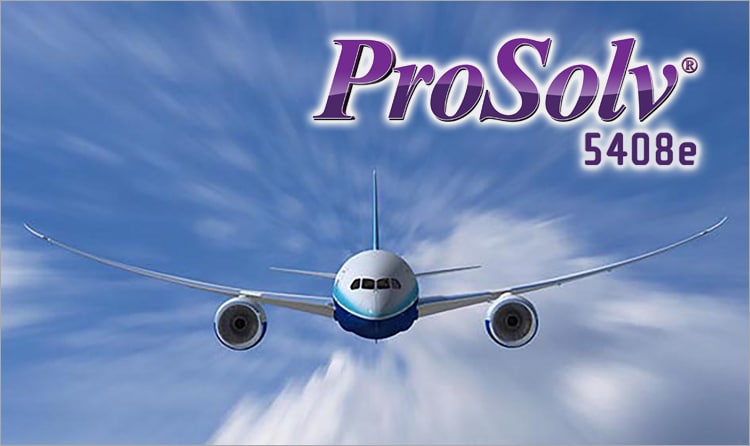 The aircraft and aerospace component manufacturing industries face many critical cleaning applications during manufacturing processes and for finishing where surfaces need to be completely degreased leaving no residues. Although aqueous cleaning would seem to be the method of choice for environmental reasons with new advancements in cleaning solvent chemistry this is often not the case. Vapour degreasing is the most effective process, economical in use with lower energy uses, one tank needing less floor space than multi tank water-based systems and safe for users.
ProSolv 5408e has been developed to be used in place of the traditional chlorinated hydrocarbon solvents, trichloroethylene and perchloroethylene and those based on n-propyl bromide (nPb) which have been phased out for use as vapour degreasing solvents in the EU. The ProSolv 5408e advanced formulation, based on sustainable solvents, has been extensively tested with oils, soils greases and other contaminants from the manufacturing process and with is high KB value all these materials are easily removed to comply with aircraft standards for cleaning and degreasing to the highest levels. No titanium surface cracking or deleterious effects on other metals or composites commonly used for aircraft and aerospace component manufacture have been identified.
The innovative ProSolv 5408e formulation produced by Envirotech Europe ticks all the boxes with the perfect profile for vapour degreasing Soft on the environment with near zero ozone depletion potential (ODP) and very low global warming potential (GWP) its lower boiling point at 48C minimises energy requirements giving reduced process times for greater throughput and comfortably handled critically cleaned parts. The incredibly low surface tension guarantees penetration into micron sized through and blind holes and between close contact surfaces.
Stable in use ProSolv 5408eis safe for users with a high 8hr occupational exposure level of 220ppm. The solvent needs no additives or stabilisers and requires no testing. Sustainable, safe and secure for future use as your forever solvent.

CRITICAL CLEANING FOR THE AIRCRAFT INDUSTRY
A few examples of the many uses are discussed below, our technical service engineers can offer information and advice on critical cleaning in the multitude of other applications experienced in the precision engineering industries.
BONDING OF HONEYCOMB SECTIONS FOR COMPOSITES
An instance of critical cleaning is removal of all contamination from aluminium honeycomb prior to epoxy resin bonding of the formed aluminium skin to produce lightweight high tensile structures for applications such as leading edges on aircraft wings and wind turbine blades.  This is an extremely demanding application, as any residues will prevent the adhesion of the adhesives leading to delamination with potentially disastrous effects.
Due to the high standards of cleaning which are required this process is usually carried out by vapour/liquid degreasing with the traditional chlorinated solvents however due to the increasingly stringent controls on these materials ProSolv 5408e which is fully tested to aircraft industry standards and with its greatly improved environmental and user profile is now increasingly used as the sustainable and safer replacement.
CLEANING FOR CRACK AND FAULT TESTING OF WELDS AND CASTINGS
Another common use in the aircraft industry is in the cleaning of castings and metal fabrications before the use of NDT crack detection fluids. Removal of all surface contamination from manufacturing processes is vital to expose faults. Vapour degreasing and vapour liquid cleaning with ultrasonics is a favoured method due to the excellent solubility of oils and greases and other soils using one tank with very fast processing and parts emerging completely clean and dry. Crack and fault detection in casting and welds is also important in other industries such as railways, automotive engines, and turbines where castings or critical welded fabrications are used. This is particularly relevant as part of the maintenance procedure for refurbishment of aircraft landing gear where surfaces can be heavily contaminated by hard to remove hydraulic oils, rubber and cement dust and grease.
Because this application needs completely degreased, residue free and dry surfaces, the use of slow drying cleaners such as hydrocarbons or water-based cleaners may cause problems as the cracks need to be dry to allow penetration of the detection fluids. Vapour degreasing is the most effective cleaning system for all NDT applications as parts emerge dry from the cleaning process. ProSolv 5408e conforms to SaE-AMS2664 and E1417 99-1/7-1-1 solvent precleaning standard for Penetrant testing in aerospace applications.

CRITICAL CLEANING OF OXYGEN AND GAS SYSTEMS
Critical cleaning of oxygen lines and tanks where no organic residues can be tolerated is another ideal use for this new sustainable cleaning solution. ProSolv 5408e conforms to CGA, ELIGA and Compressed Gas Association standards for this application. We have a series of guides to using ProSolv 5408e for component cleaning to Oxygen standards and recommended cleaning methods involved, available on request.
ProSolv 5408e is produced to consistent quality standards worldwide and is available through a network of experienced and qualified suppliers.
We can provide you with a Material Safety Data Sheets, independent laboratory reports, product samples and technical assistance..
For more information or advice please telephone us on +44 (0) 20 8281 6370 or use our contact form.
All of our products are manufactured, supplied and supported by EnviroTech Europe Ltd and are available on short delivery times through our dedicated team of distributors worldwide.
https://www.envirotech-europe.com/mh370/
SuperCORR A protects electrical control systems against corrosive environments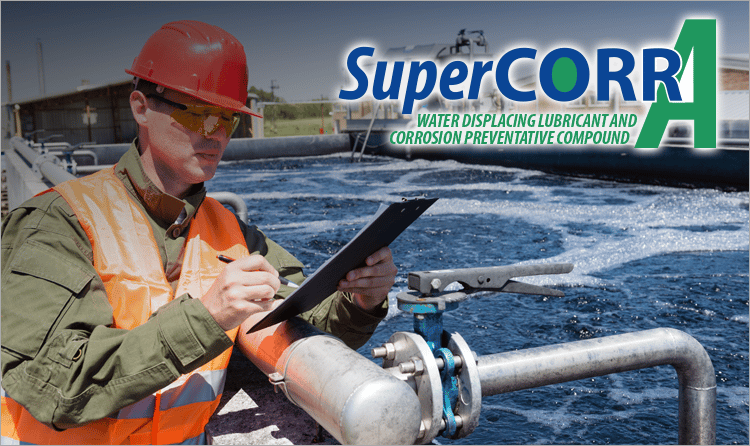 Wastewater treatment plants are subject to corrosion and rust from a variety of causes, one of which is Hydrogen Sulphide gas, (H2S). Corrosion is an insidious and costly problem that causes just about every metal and metal alloy to fail over time. Metals in electrical and electronic control systems, components, connectors, and switches are of most concern.
Corrosion is found in almost all process industries including wastewater treatment plants, pulp and paper mills, fertilizer plants, and numerous other industries and is not going away.  Establishing a 'Preventative Maintenance Program' that includes corrosion prevention makes it a problem that can be cost effectively dealt with.
One proven and positive way to reduce, if not prevent, corrosion altogether from causing electrical, electronic systems and component failures is by using an ultra-thin film water displacing lubricant material with corrosion inhibiting compound, SuperCORR A has all these properties. 
A proprietary formulation packaged in aerosol cans it uses a non-flammable fast drying carrier solvent. The aerosol is supplied with a flexible tube applicator which allows the protective coating to be applied accurately even in difficult to get to components.
Removal of surface contamination from the metallic contact surfaces on switches and circuit breakers is essential to ensure fault free operation. The aerosol uses the unique
SuperCORR A formulation to lift and remove dust and soils from the metal contact surfaces. An inert compound that neither reduces nor increases the electrical conductivity. SuperCORR A also provides long term protection from corrosion and electrical arcing that can lead to shorts and subsequent circuit failures.
Testing SuperCORR A in corrosive environments
SuperCORR A (MIL-DTL-87177B (Revised MIL-L-87177A) Type 1 Grade B lubricant was subjected to extensive and vigorous Mixed Flowing Gas (MFG) testing at Battelle Laboratories under a U.S. Government contract.
Specifications ASTM B827 and ASTM B845 Class III MFG testing protocol were used. This included gases with high corrosion potentials including Hydrogen Sulphide (H2S), Nitrous Oxide(NO2), and Chlorine (Cl2).
ASTM B845 refers to techniques for mixed flowing gas (MFG) tests containing gases that are applied to evaluate devices containing electrical contacts such as slip rings, separable connectors, electromechanical relays or switch contacts. The MFG tests accelerate corrosive degradation processes. Connectors and contacts within closed electronic cabinets may be affected by an environment of different severity than the outside of these cabinets. ASTM B827 outlines procedures for conducting environmental tests involving exposures to controlled quantities of corrosive gas mixtures. Equipment and methods for gas, temperature, and humidity control for tests to be conducted in a reproducible manner are described.
Reproducibility is measured using control coupons whose corrosion films are evaluated by mass gain, coulometry, or by various electron and X-ray beam analysis techniques. Reproducibility can also be measured by in situ corrosion rate monitors using electrical resistance or mass/frequency change methods. Full copies of these tests can be made available on request.
Industrial applications
SuperCORR A has a proven performance record in protecting electrical components, systems, connectors and electronics. The coating will also prevent the ingress of moisture and other contaminants onto the connector surfaces.  These initiate corrosions and cause intermittent component failure or a premature degradation of component performance.
The Battelle Laboratories studies provided data and related processing information validating the benefits of using SuperCORR A. to protect the electrical connectors of line replacement units (LRUs) used in military aircraft avionic applications.
The results of the laboratory and field-testing activities conducted in these studies confirm that SuperCORR A is an extremely effective coating to protect electronics, electrical components and systems including switches and connectors with no compromise of the integrity of the electrical component/system even in very corrosive environments.
As a result of testing on site at a number of private and public companies with the confirmatory work at Battelle Laboratories SuperCORR A is being used to reduce maintenance and repair costs in a range of different industrial applications –  wastewater treatment plants, pulp and paper mills, automotive and heavy equipment industries and in the power production sector oil and gas and renewable energy and in both the aviation and maritime industries.

FURTHER INFORMATION
Please visit our website  www.envirotech-europe.com/supercorr-a for information about other uses and applications.  For more advice, please telephone us on +44 (0) 20 8281 6370 or use our website contact form.
All products are supplied and supported by EnviroTech Europe Ltd. Manufactured in the United Kingdom and available on short delivery times through our dedicated team of distributors worldwide.
We can provide you with a Material Safety Data Sheets, independent laboratory reports, product samples and technical assistance..
For more information or advice please telephone us on +44 (0) 20 8281 6370 or use our contact form.
All of our products are manufactured, supplied and supported by EnviroTech Europe Ltd and are available on short delivery times through our dedicated team of distributors worldwide.
Clarea

®

industrial solvent cleaners are safe for users and the environment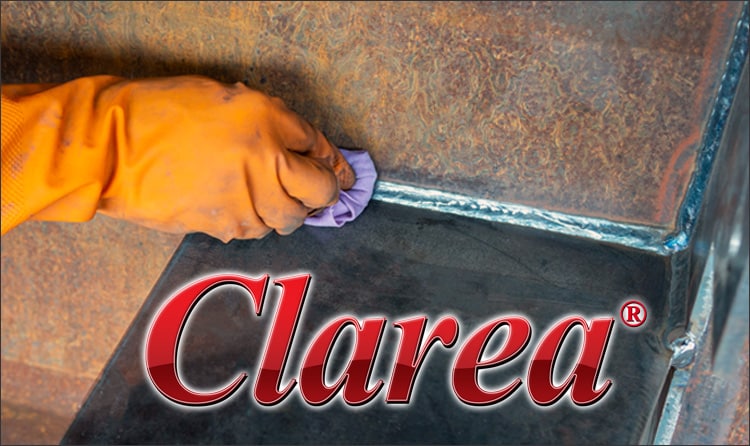 Clarea® solvent cleaners are compatible with all metals, composites and most plastics used to remove dirt, oil, grease, or other contaminants from surfaces without causing harm or leaving residue. They are used as immersion cleaners for component cleaning in manufacturing and engineering industries and as wipe cleaners for large surface areas prior to painting or powder coating.
The environmental concerns and health hazards of the chlorinated solvents used as industrial degreasing agents has led to the formulation of this EnviroTech range of safer cleaning solvents.
What to consider when choosing suitable solvent cleaning products?
Solvents used for cleaning must be highly refined and leave no residues on drying. They need to be highly effective removing oils and soils without causing damage or corrosion of the parts or components being processed and leave minimal residues.
Cleaning specifications vary widely from very demanding automotive and aerospace applications to less demanding applications where critical cleaning is not needed such as pre-used parts or assemblies from the transportation, aerospace, or manufacturing equipment sectors. Heavily contaminated when removed from service these must be free of oils, soils, grease and dirt before disassembly prior to refurbishing and rebuilding. Much of this work will be manual and the considerations for the safety of operators, hand wiping or brush cleaning is paramount.
Clarea® products are aliphatic hydrocarbon based low odour degreasing solvents with specified flash points. They will remove oils, greases, hydraulic fluids cutting fluids and a wide variety of hydrocarbon based protective coatings. Clarea® solvents can be safely used with all metals and composites and most plastic and paint finishes.
Clarea® HC40, ultrasonic and dip systems and can be used with brush or in hand-wipe processes.  Clarea® HC462, is a degreasing solvent with a flash point over 60°C. It is suitable for hand-wipe applications when used externally.
EFFICIENT AND ECONOMICAL
Versatile and cost-effective solutions for all your industrial cleaning
Minimal odour and low toxicity for operators
Multipurpose uses can reduce the inventory of cleaning fluids.
Flexible uses – evaporation rates suitable for hand wipe, spray, or immersion tank cleaning
Clarea HC40 for brush and hand wiping, air dries. Flash point 40°C
Clarea HC62 for spray or immersion cleaning Flash point 62°C
Contains no chlorine, other halogens or stabilisers
Compatible with all metals and composites and most plastics
Excellent pre-cleaner for paint or powder coatings
Safe, reliable, environmentally friendly cleaning
We can provide you with a Material Safety Data Sheets, independent laboratory reports, product samples and technical assistance..
For more information or advice please telephone us on +44 (0) 20 8281 6370 or use our contact form.
All of our products are manufactured, supplied and supported by EnviroTech Europe Ltd and are available on short delivery times through our dedicated team of distributors worldwide.
https://www.envirotech-europe.com/mh370/
SuperCORR A multitasking lubricant and corrosion protection spray solving problems across industry.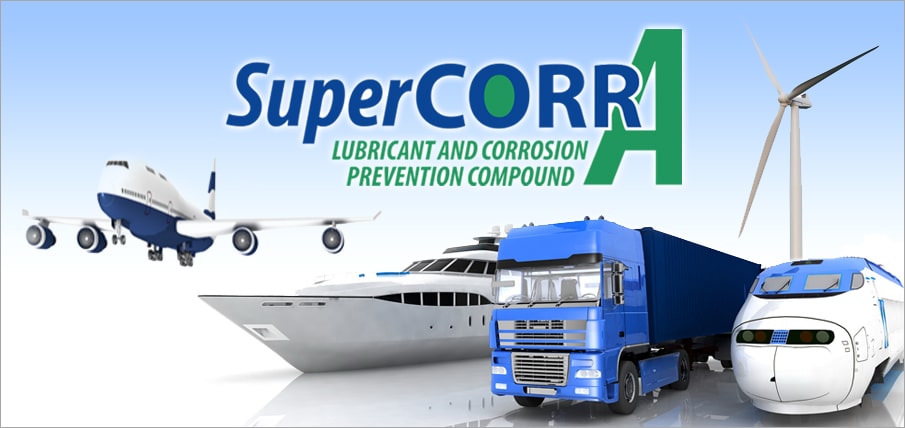 Originally developed to comply with military standards for a lubricant and corrosion protective for the USAF (MIL- DTL- 8717B Type 1 Avionics cleaning and corrosion prevention and control) SuperCORR A is now the industry standard for in service maintenance by military and commercial airlines and MOR facilities worldwide. It is recognised for its unique formulation which contains extremely long-lasting, proprietary anti-corrosive inhibitors providing a superior lubrication coefficient and protecting components against moisture, wear, general and fretting corrosion, surface static electricity, corona, and other electro migration problems. The ultra-thin non-flammable lubricant film is only 7 microns (0.0007 inch) thick and is formulated without sulphates, chlorides or halogens to meet the EU RoHS directive. It is unexcelled in preventing deterioration and contamination on all surfaces of electronic equipment and metal components.
Its use in aircraft is well established for maintenance but major aerospace and turbine manufacturer is currently completing trials with SuperCORR A to protect machined parts in transit and storage, worldwide, under variable temperature and humidity conditions against corrosion during long term storage. The protective film is self-sealing during movement and handling and can be removed before use if necessary.
Amongst other established uses for mercantile lubrication and corrosion protection suppliers of marine maintenance packages, which include SuperCORR A, to ships on docking. These are used for routine lubrication and anticorrosion maintenance in the harsh conditions experienced at sea. The aerosol cans make access to parts easy for the engineering crew in difficult locations on ship. Unpainted mild steel will not rust on exterior surfaces directly exposed to sea water spray for at least 6 months protecting electrical connectors, switches, chains, drive shafts from corrosion while maintaining lubrication on moving surfaces.
In another interesting application SuperCORR A reduces maintenance under extreme conditions to protect the metal edges of the composite blades on wind turbines. These are subject to the continuous corrosive effects of wind, rain and salt laden sea spray which erodes and corrodes the metal. The protective film produced by application of SuperCORR A is impervious to water and lubricates the airflow across the blade edges preventing corrosion of the metal. Safety on these wind turbines where maintenance engineers are working at great height and perilous conditions of exposure to high winds entails reliance on critical fall arrest equipment. Corrosion in the bearings, clutches and wires used in the arrester mechanisms can lead to failure and potentially serious injury or loss of life. SuperCORR A protects against corrosion in these safety critical components.
The oil and gas industries use SuperCORR A as a reliable easily applied protective coating against corrosion of tools and parts in storage and transit. High humidity and wide fluctuations in temperature experienced on oil rigs at sea and on land need the same protection and lubrication  for  critical fall arresters used on wind turbines and in other situations where working at high levels in extreme weather conditions imposes the same risks.
Monitoring systems, electronics. switches and moving surfaces also need protection and SuperCORR A being based on nonorganic lubricants will not attack or degrade the materials used in manufacturing the components but reject water from protected surfaces preventing shorts, and by preventing fretting corrosion ensuring good connections and smooth movement in bearings and chains.
Portable diesel and LP generators are widely used in the oil and gas and mineral extraction industries in remote, hostile environments. Between flights aircraft services are powered by generators during loading and unloading and maintenance.  All these uses require connection and disconnection, often many times a day. Connector seals, when broken, allows water, sand or dust to penetrate and with the flexing of the connector cables allows sufficient movement between the metal surfaces of the connector pins to produce fretting corrosion. A simple spray between connection breaks ejects water and particulates and protects and lubricates the contacts improving reliability of supply.
Building and construction industries offer other unusual uses for SuperCORR A. Unpainted hatches, grilles, and window furniture are galvanised if manufactured in steel and anodised if aluminium or a zinc alloy. These need protection in storage against scratches and once installed exposure to wind and especially acidic rain dulls surfaces and produces unsightly white surface corrosion. An onsite spray with SuperCORR A on completion of the installation protects the surfaces with an invisible film and at the same time applies a lubricant film to hinges and bearings in handles and other moving parts such as window openers  reducing the needs for maintenance often in inaccessible places at high level.
In all forms of transportation from Amtrac trains, DLR and other lightweight rail systems and for protection of transit equipment and services for underground tunnels and systems to motorsport. racing and rally cars, electric cars and on emergency vehicles SuperCORR A is used for protection and lubrication of connectors, electrical systems and switches, mechanical controls during manufacture, assembly and servicing. Haulage is another area where the ability to displace water from exposed contacts can ensure reliable operation in extreme conditions.
The unique combination of properties in one small aerosol can gives maintenance and service engineers a very safe solution to an enormous range of problems.
For more information please visit www.corrosion-protect.com. To discuss the use of SuperCORR A to solve your problems please use the website contact form or phone us, we look forward to hearing from you.
We can provide you with a Material Safety Data Sheets, independent laboratory reports, product samples and technical assistance..
For more information or advice please telephone us on +44 (0) 20 8281 6370 or use our contact form.
All of our products are manufactured, supplied and supported by EnviroTech Europe Ltd and are available on short delivery times through our dedicated team of distributors worldwide.
https://www.envirotech-europe.com/mh370/